Featured
10 Republicans who stole your favourite band's music
by AUX staff
The Silversun Pickups are the latest in a long line of typical left-wing pinko musicians who are not happy with the Republican Party using their music, sending Mitt Romney a cease-and-desist for his use of their song "Panic Switch" at campaign events.
"We don't like people going behind our backs, using our music without asking, and we don't like the Romney campaign," singer and guitarist Brian Aubert said in a statement. "We're nice, approachable people. We won't bite. Unless you're Mitt Romney! We were very close to just letting this go because the irony was too good. While he is inadvertently playing a song that describes his whole campaign, we doubt that 'Panic Switch' really sends the message he intends."
Here are 10 other instances of the Republicans getting shut down by your favourite band:
David Byrne sued Republican Florida Governor Charlie Crist for using "Road to Nowhere." The case was quietly settled in court.
Kentucky Republican Rand Paul used two Rush songs in his 2010 bid for U.S. Senate. The band's legal representation stepped in immediately, though the band claimed it was just business, not politics.

Canada's New Pornographers' spoke out against Progressive Conservative leader Tim Hudak's use of "Moves" at the end of campaign speeches.

Don Henley sued Chuck Devore during his 2009/2010 run for California senate for using "All She Wants to Do Is Dance" and "The Boys of Summer" in campaign videos called "All She Wants to Do Is Tax" and "Hope of November."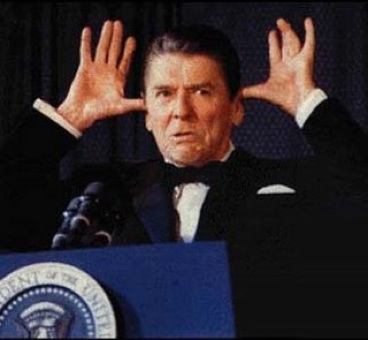 And of course, the marker for this sort of thing: Reagan using Bruce Springsteen's "Born in the U.S.A." during a reelection bid in 1984. You can just Google that one.
Tags: Music, Featured, Lists, News, Bruce Springsteen, Charlie Crist, Chuck Devore, David Byrne, New Pornographers, Rush, Sarah Palin, Silversun Pickups, Tim Hudak, Tom Petty